NATIONAL CONFERENCE 2021 | UPDATES
Click on the below links for Event Coverage
a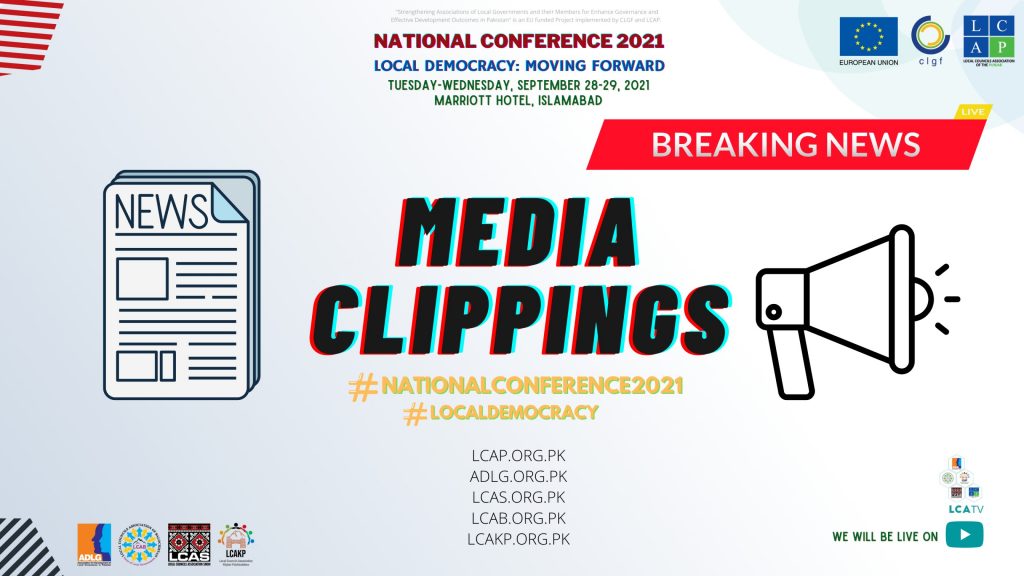 Speeches
Hon. President of Pakistan, Dr. Arif Alvi
Mr. Ovidiu MIC, Head of Cooperation, European Union Pakistan
Ms. Lucy Slack, Acting Secretary-General, CLGF
Day2 LIVE Streaming
DAY 1 LIVE Streaming
---
Twitter
---
Pre-Event Campaign
---
---
LOCAL DEMOCRACY: MOVING FORWARD
Join us LIVE on LCA TV on 28th and 29th September 2021
High-level decision-makers, key stakeholders, legislators, and local government members from all across the country are gathering to discuss issues of Local Governments in Pakistan.
The conference is organized by the Local Councils Association of the Punjab partnering with Local Councils Association Sindh, Local Councils Association of Balochistan and Local Councils Association Khyber Pakhtunkhwa (LCAs) with the supervision of the Association for Development of Local Governance (ADLG) an umbrella organization of Associations of Local Government Authorities, working in Centre, Punjab, Sindh, KPK and Balochistan.
National Conference 2021 is happening in collaboration with the Commonwealth Local Government Forum and the support of the European Union. The leadership of LCAs from Pakistan are scheduled to present the efforts done for the local government landscape of their respective province. The leadership of the Commonwealth Local Government Forum will also join the conference.
ADLG and all other LCAs are pulling together local government members from all across Pakistan and emerging as a "United Voice of Local Government Members across Pakistan".
High level politicians, bureaucrats, civil society champions and media persons are attending the National Conference 2021, the discussions will set the future course of local democracy in Pakistan.
The concrete progress of any country initiates from the lower tiers of the governance _ Pakistan is deprived of active local governments. Punjab Local Government members are fighting for a fully functional revival of their suspended legal tenure, Sindh hasn't seen the light of Local government elections since the last local government term ended in August 2020. Khyber Pakhtunkhwa is fighting for improvement in their local government legislation, Balochistan! As usual, surviving to strengthen local democracy while anticipating local government elections.
The Agenda of this anticipated event will take place to emerge as a stimulus to the formulation of Political Consensus on the revival of sustainable local governments in Pakistan. The panellists will discuss key elements of local government legislation and its effective implementation. Moreover, the opportunities, challenges and the role of marginalized groups such as Women & Minorities will be taken under light.